BerryHealthy is a local family business, based in Paekakariki Hill Rd where we grow Blueberries and a variety of fruit trees. Our goal is to grow berries and make products that look great and are fun to use.

PYO this week open Monday 17th, Wednesday 19th, Friday 21st and Saturday 22nd February 2020 9am-1pm
We will next be open on Wednesday 12th, Friday 14th (original block at rear of property) and Saturday 15th February (new front block) at our blueberry farm at 247B Paekakariki Hill Road. Call in and see David and Shelley and get your fresh blueberries.
Please note we don't have eftpos at our property (or toilets, these are located in our village in Pauatahanui).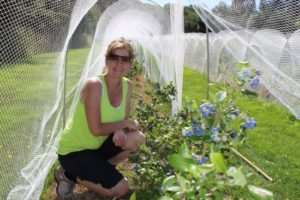 New Netted area, means more production for 2020
Follow our journey, as we covered our new block in August 2018. Our goal is to maximise the best blueberries available to our customers, by reducing the effects of wind and marauding birds.This was a very exciting achievement.
Come and visit us:
247B Paekakariki Hill Road, Pauatahanui. That's 2.47km from Pauatahanui Village heading north up Paekakariki Hill Road. We are on the left hand side.
Health Information:
The health benefits associated with eating Blueberries have been well researched.
See Benefits
Eliza McCartney NZ sportswomen:
Recipes:
Check out these recipes for using blueberries in your menu.
See Recipes
Hay:
BerryHealthy is a working farm. We make our own meadow hay each year. Please Contact Us with your inquiry.